Event Details
27th Annual HR Law and Solutions 2019
Date:
March 29, 2019, 7:00am – 4:00pm
Organizer:

Henderson Franklin Attorneys at Law

Location:

Sanibel Harbour Marriott Resort & Spa
17260 Harbour Point Drive, Fort Myers, FL 33908

Price:
Event Type:
iCal link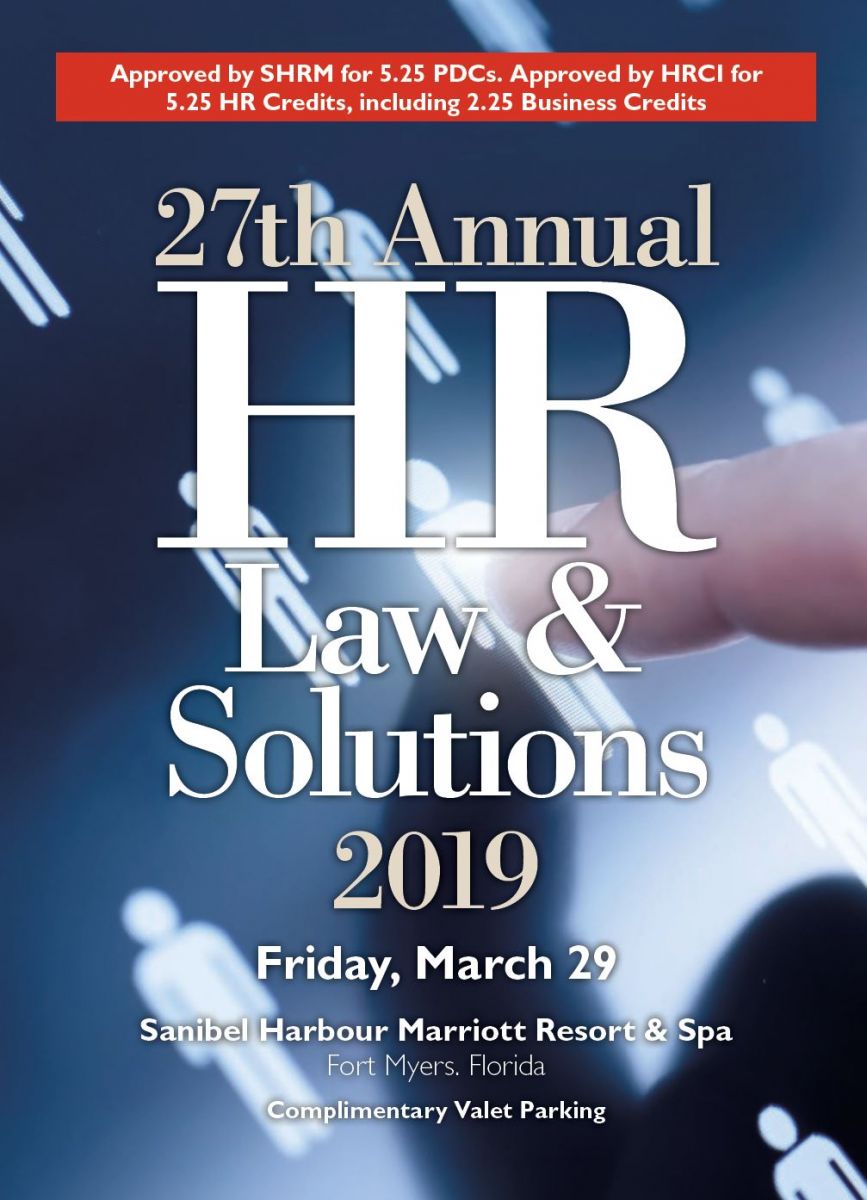 Henderson Franklin's Employment and Workers' Compensation legal teams will return to the Sanibel Harbour Marriott Resort & Spa in Fort Myers on Friday, March 29, 2019, to present the 27th Annual HR Law & Solutions seminar, which is tailored to business owners and human resource professionals.
Topics and Speakers
Love is in the Air: Best Practices for Handling the Consequences of Romance in the Workplace, with presenters Robert C. Shearman, Esq., David Roos, Esq., and Russell Whittle, Esq.
While roses are red and violets may be blue, when a workplace romance goes askew, an employer must know what remedies they can pursue. The panelists will discuss multiple scenarios in which a workplace romance could potentially lead to legal claims, as well as the employer's obligation to keep the workplace safe. Attendees will learn various proactive measures, including policies and "love contracts"; how to handle investigations into claims of violence, harassment or retaliation; and, disciplinary measures available when policies are broken.
Some Baggage Included: An Employer's Guide to Hiring, with presenters Robert C. Shearman, Esq., David Roos, Esq., and Russell Whittle, Esq.
Recruiting and maintaining a strong workforce is crucial to an organization's success. HR professionals and business owners must follow strict guidelines when interviewing candidates, especially when confronted with physical or psychological disabilities and characteristics which are protected under the law. In this session, attendees will learn strategies to mitigate the volume and severity of claims, day-to-day hiring practices to safeguard an organization from potential risk and potential pitfalls for failing to apply best practices.
Run. Hide. Fight. Surviving an Active Shooter, presented by guest speaker Lee County Sheriff Staff Officer Scott Griffith
If you unexpectedly found yourself in the chaos of an active shooter or mass casualty event, would you know what to do to survive? Can you safely escape? Is there a good place to hide? Attendees will learn how to prepare before an incident takes place and learn the applications/options of Run – Hide – Fight along with the "when, where & how" they can be realistically applied. Officer Griffith will also explain what happens both mentally and physically in these types of situations and how to use them to your advantage. Attendees will also learn "last resort" options when it comes to defending yourself and others.
Employment Law and Legislation Update, presented by Richard Akin, Esq. and Kyle Dudek, Esq.
Richard and Kyle will provide an interactive update on notable court decisions, including cases addressing contentious employment policies and contract provisions, discrimination against protected classes of workers, as well as other noteworthy employee claims. EEOC trends and legislative developments impacting employers also will be addressed. Attendees will learn practical advice and tips to help HR professionals reach their corporate goal of a compliant workplace under current laws and regulations.
HR Leadership Lessons from Hollywood, presented by guest speaker Andy Masters, CSP, M.A.
Andy Masters creatively uses the magical imagery of Hollywood to help HR leaders develop and empower their organizations in this challenging era of having to "Do More With Less". This unique program also cites the latest research from Harvard Business Review, Deloitte, and Glassdoor to provoke real organizational change from every attendee. This program will illustrate what leaders should do create a positive organizational culture of developing, empowering, and delegating and how to avoid the damaging impacts of organizations that don't.
Have questions you would like answered by the panelists? Email them in advance to Gail Lamarche at gail.lamarche@henlaw.com.
Continuing Education
This conference has been approved by SHRM for 5.25 PDCs. HRCI approval is pending.
Conference Partners
We are grateful for the support and sponsorship of Sanibel Captiva Community Bank (breakfast sponsor), Lykes Insurance (lunch sponsor), Advance Medical of Naples and Health Evolution (valet sponsor), as well as our in-kind partners Charlotte County SHRM, SHRM SWFL, and HR Collier.
To register online, go to