Event Details
Charlotte County SHRM Monthly Luncheon - Managing Millennials & American Foundation Suicide Prevention SWFL Chapter Board Members
Date:
April 24, 2019, 11:30am
Organizer:
Location:

Laishley Crab House
150 Laishley Court
Punta Gorda, FL 33950

Event Type:
iCal link
Lieutenant Joshua Pitts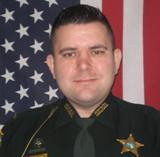 Lieutenant Joshua Pitts began serving with the DeSoto County Sheriff's Office in 2012. From 2012 to 2014 he served as a Detention Deputy in the Detention Bureau. He was promoted to Corporal in 2014 and just two months later to the rank of Sergeant. He was appointed to Lieutenant in March of 2017 for the Detention Bureau.
Lieutenant Pitts has logged over 1350 training hours in the Corrections Field. He has obtained training in Middle Management, Supervisor Leadership Institute, Command Leadership Institute, Executive Leadership Institute, Managing the FTO program, Police Internal Affairs, Certified Locksmith and among other training in the Corrections Field and Leadership. Lieutenant Pitts has also graduated from the Florida Department of Law Enforcement Senior Leadership Program and completed the FBI-Law Enforcement Executive Development Association Trilogy.
Lieutenant Pitts moved to DeSoto county in 2012 from active duty in the United States Air Force. Prior to that, he worked for the Department of Corrections at Union Correctional Institute.
Topic "Managing Millenials"
Managing generational differences in today's workforce, with the understanding and goal of motivating, teaching and hiring the Millennial Generation whom make up more than 50% of the workforce.
Welcome Board Members of SWFL Chapter of American Foundation for Suicide Prevention
Amy Vogel and Ashley Bloom