Event Details
May 26th Visani's Comedy Club Night
Date:
May 26, 2022, 6:00pm – 10:00pm
Organizer:
Location:

2400 Kings Highway
Port Charlotte, FL 33980

Price:

$10 per ticket - via PayPal below or from a CCSHRM Board Member

Event Type:
iCal link
Please Join Us for Our Visani's Comedy Club Night - May 26th at
Opens for Dinner at 5:00 pm, Show Starts at 8:00 pm
Tickets are $10 per Person
CCSHRM Board Member will get tickets to you or pick up at the door.
Note: Dinner is not included in ticket price. 20% Gratuity automatically added to receipt.
Come for the Food... Stay for the Laughs... Benefit a Great Cause
Sales from these Tickets are to benefit the CCSHRM Certification Scholarship
Featured Comedian - America's Funniest Retired Cop - Mike Armstrong!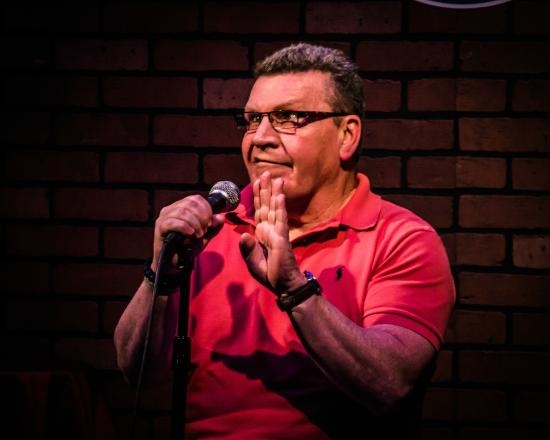 Mike is a former police officer from Louisville Kentucky. He's a regular guest on The Bob and Tom Show, with TV credits ranging from Oprah to CBS Morning News to Good Morning America. Mike and his Wife have a small herd of children. The kids are clones of their father. They'll say and do just about anything to get attention. Mike's an ex-cop – the kind of cop that most people hope for when they get pulled over.
"I stop cars and warn the speeding drivers about the speed traps up ahead."
"I think that when I quit the police department three other cops lost their jobs. They simply didn't need that many internal affairs officers anymore!"
"I've been married so long, I don't even look both ways when I cross the street."
A note from Visani Comedy Club:
*In order to ensure our ability to bring the best comedians to Port Charlotte, we ask that you respect our two item minimum policy. This can include any combination of nearly 100 choices of food or drink items.
*A surcharge of $10 will be added to each individual's check in the instance you do not meet the 2 item minimum policy.
Thank you for your support!!!
Can't attend but still wish to donate? All donations are welcome.
Pay by cash or PayPal.